Jennifer, a concert cellist, had stage 4 cancer of the breast which was starting to spread to her lungs. She was in deep depression. It was a bad time to get sick, because the orchestra was having frenzied rehearsals for a big concert. Her depression suddenly turned into hope when she met a nightingale.
eastwind journals, February 11, 2022 (archive tr206)
By Bernie V. Lopez, eastwindreplyctr@gmail.com
Share with friends – https://eastwindjournals.com/2021/04/01/the-nightingale/
This strange story of song birds joining an orchestra happened near Schilthorn in the Swiss Alps. One summer evening, on the way home from an orchestra rehearsal, Jennifer suddenly stopped the car, then turned into a dirt road leading to a clearing in the woods. She remembered the place clearly, her secret inner garden. It was where she used to go alone as a child by bike whenever her brothers bullied her. In She would talk to herself and to Jesus, asking why life was so hard. Her depression would vanish and she would go home happy. It was her childhood sanctuary, a gift from the Lord.
So, in her deep depression due to her cancer ailment, she returned to her childhood forest cathedral. Then she had an idea. She took out the cello, sat on a rock, and played a tune. The cello could express her pain, a deep bass moan that echoed through the woods. The cello wept and shed her tears.
Suddenly, a nightingale replied with its own tune, as if giving Jennifer counsel in her pain. Jennifer played another tune. The nightingale responded again. For one whole hour, the trio had this long conversation, a cello, a cellist, and a bird. Jennifer's depression instantly vanished, just like in her childhood. (Listen to the nightingale sing – https://www.youtube.com/watch?v=XdlIbNrki5o).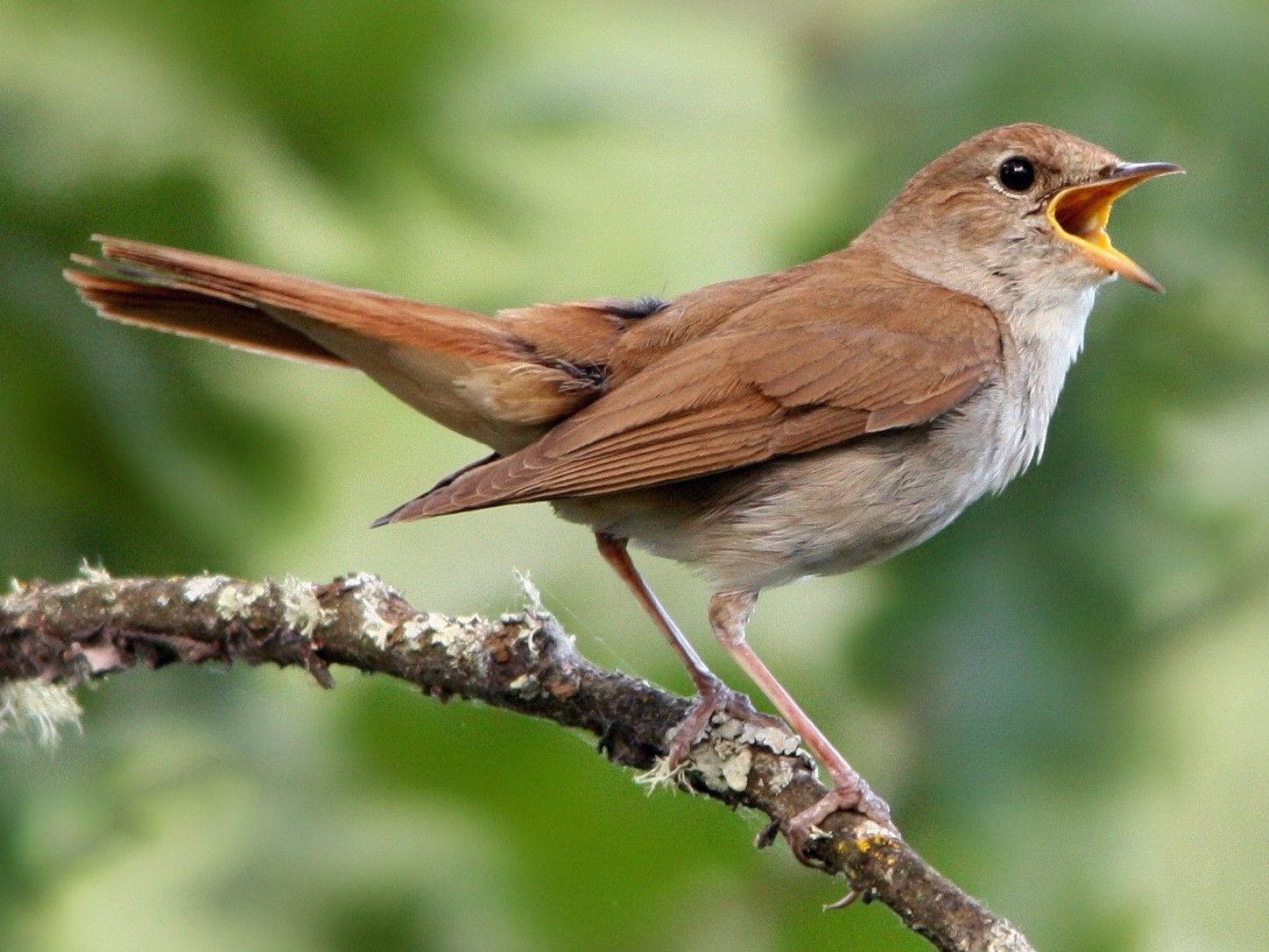 Photo by Tania Araujo for ebird.org
She frequented the woods to 'talk' to her nightingale. One evening, she recorded their music. As she played it back, the music echoed across the forest. Another nightingale replied, then another, then another. Six birds joined in all from different parts of the forest. Jennifer again recorded the entire concert of one cello and six birds.
She told the conductor about it and they entire orchestra listened to Jennifer and her song birds. All were silent, listening in awe. Then, upon the conductor's signal, one by one, they joined in – the violins, the clarinets, the piano, all impromptu. The seven other cellos were the last, preparing Jennifer for her solo. The conductor hired a camera man who recorded Borodin's Nocturne with a full orchestra and six song birds.
Jennifer posted the video on Youtube, which instantly went viral, 3 million hits in 3 days, 80 million in a few weeks. The orchestra was invited to play at the Hollywood Bowl for thousands of listeners, who gave a standing ovation. (Listen to a Croatian cellist play Nocturne – https://www.youtube.com/watch?v=wqnnAroUWuM).
Jennifer forgot that she had cancer. When she went for a checkup, the doctor was shocked. She was cancer-free. He asked curiously what she did to bring down her stage four cancer to stage zero. She said the Lord told the nightingales to heal her. The doctor said, "The Lord's ways are indeed strange for us humans who are so ignorant."
Decades after, in her old age, Jennifer often returned to her forest cathedral, praying to her Healer and playing with her healers. More nightingales joined in, until they would drown out Jennifer's cello.
Jennifer would go to her forest cathedral even in the dead of winter. She would play the cello even in the absence of the nightingales, who normally migrated south to warmer air. But one warm sunny winter day, when the blinding soft snow dazzled the eye, a lone nightingale descended on Jennifer and they sang together for two hours. It was her first time to see her beloved healing-bird friend, and she was in tears.
READ MORE INSPIRATIONAL ARTICLES AT https://eastwindjournals.com/ — or click "HOME" at top right of page.
FOR THOSE WHO NEED HEALING, spiritual or physical (depression, anxiety, loneliness, terminal cancer, covid, diabetes, etc.) – say a healing prayer with –
1) Father Fernando Suarez – www.youtube.com/watch?v=8UP3LHBgtIc.
2) Sr. Raquel Reodica, RVM – www.youtube.com/watch?v=wAZcwNimBSg (download free e-book 'Healing Stories of Sr. Raquel' at eastwindjournals.com/2021/08/13/healing-stories-of-sr-raquel-e-book-free-download/).
AUTHOR'S BOOK – Wings and Wanderlust – Discovering Your Inner Self. At age 26, the author hitchhiked 25,000 kilometers in Europe and North Africa for three straight years. In this book of his wild adventures, he learned deep insights that changed him totally, which he wants to share with readers. It also a guidebook on how to plan your own adventure.
Order a paperback or an e-book. For paperbacks, if you are a Philippine resident, save on shipping cost by ordering by email at eastwindreplyctr@gmail.com. For e-books, if you have an IPAD, download the app 'kindle'. For non-IPADS, buy a kindle device (check guidelines.) – https://www.amazon.com/dp/B09KS7QYWL.
Author's Credentials. Blogger – ex-Columnist (Inquirer) – Healing Ministry – ex-Professor (Ateneo University) – Documentary Producer-Director (freelance, ex-ABS-CBN, ex-TVS Tokyo) – ex-Broadcaster (Radio Veritas) – Facebook "Bernie V. Lopez Eastwind" / Pages "Eastwind Journeys and Journals" and "Mary Queen of Peace".
amdg